Skip to Content
Trust All Things New LLC for Your Baltimore Flooring Needs
Beautiful flooring can elevate the aesthetics of a room while offering benefits for foot traffic, durability, and cleanup. With water-resistant and waterproof options, your family doesn't have to worry about orange juice spills or snowy boots in December. A quality flooring installation can also raise the value of your home. If you plan to sell, an attractive tile floor in the master bathroom and elegant hardwood in the study may pique the interest of prospective buyers. All Things New LLC is the home improvement contractor households throughout the Baltimore, MD Metro Area turn to for residential projects throughout their homes. We offer expert installations of various types of flooring to fulfill your design ambitions at a competitive price. Our team performs one project at a time so that we can concentrate on your complete satisfaction with a timely finish and wonderful craftsmanship. As long as we have the materials and directions from you on the project, we'll be on the job every day and keep the work site clean and tidy to minimize the impact on your daily life.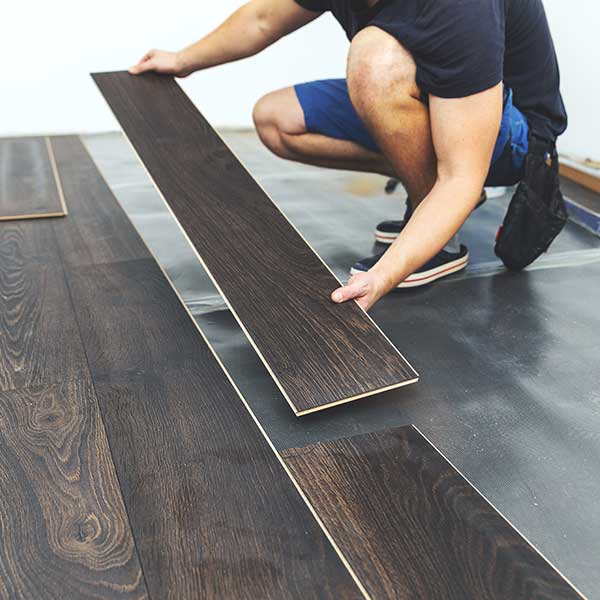 All Things New LLC wants to make sure you get the exquisite flooring you desire for your home.
Hardwood
Solid hardwood floors add warmth and elegance to a room with the natural grain and a wide array of staining options. They also have an impressive resistance to wear, and you can sand and refinish hardwood multiple times. Engineered hardwood flooring is an option using thin layers of wood adhered together with a thin veneer of real wood on top. It's better with humidity and is less likely to expand.
Tile
Tile flooring is a classic choice that resists moisture, stains, dents, scratches, and general wear. Installing tile can be more challenging and time-consuming than other flooring options, and it can be more expensive. Make sure you have a seasoned professional install it to ensure the best results without wasting money or materials.
Laminate
Laminate flooring gets made using dense fiberboard. You can mimic almost any surface since the top appearance is a photo encased under a protective clear plastic coating. A cork backing is available from some brands, which may help muffle the sound. Laminates are more scratch-resistant and fade-resistant than the majority of other wood products.
Vinyl Plank
This flooring option is an excellent choice to fend off wear and tear, including stains, discoloration from sunlight, scratches, and dents. Vinyl planks are easy to install, and you can find a wide variety of color and design choices. You can get planks that look like tile, stone, and even wood options like oak.
Call Us for Premium Flooring in the Baltimore Area
All Things New LLC is ready to expertly install the beautiful flooring of your choice in your home. Give us a call today to schedule service throughout the Baltimore, MD Metro Area.
Call Us to Schedule a Consultation for Your Home