Skip to Content
Building Club Basements to Enhance Your Livable Space
Your basement might seem like it's just for storage or laundry, but imagine turning it into an extension of your home's livable space. With quality drywall and insulation, as well as flooring and an additional bathroom, you can enjoy a club basement to relax and entertain guests. Add a fresh coat of paint and hang your photos and artwork to personalize the space, and your once-drab and dingy basement have been renovated into a fantastic second family room, guest's quarters, or home office. Take advantage of your house's usable square footage. All Things New LLC serves residents throughout the Baltimore, MD Metro Area with a variety of home improvement services to update and enhance their homes. We always strive to give your project that little something extra at no additional cost. Besides our high-quality craftsmanship, we also show up on time every day to ensure you get a timely and beautifully completed project.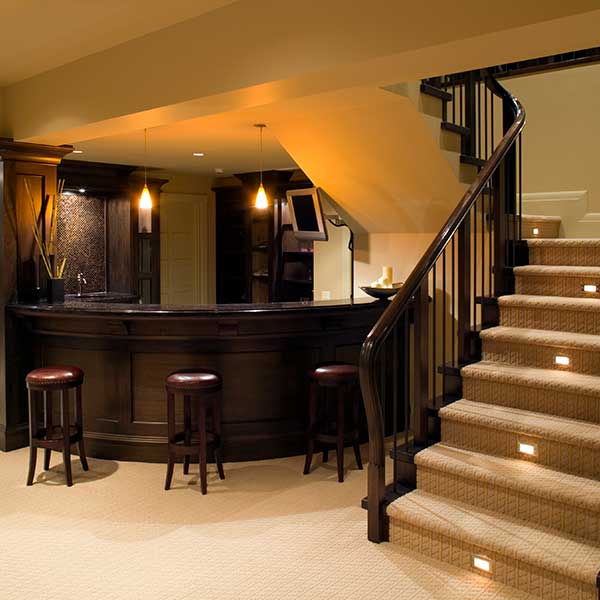 Expert Services for Your Basement Renovation
You'll love your renovated basement when we finish. All Things New LLC has spent decades beautifying the homes of our clients. This experience includes performing complete turnkey renovations to turn dull subterranean spaces into club basements.
Drywall
Let our home improvement specialists finish the perimeter walls of your basement with expert drywall installation that's ready for paint and décor.
Insulation
With quality insulation installation in your walls, you'll keep out the frigid winter cold and blistering summer heat for a more comfortable space year-round.
Framing
When your basement renovation needs walls erected, we frame to fit the space for bathrooms or to update the structure of your downstairs space.
Bathroom Addition
Enhance your club basement's facilities with a bathroom addition, so you don't have to run upstairs whenever nature calls.
Painting
Whether you prefer gloss or matte, dress up your club basement with the color of your choice, and we'll carefully apply the paint for a perfect finish.
Finish Carpentry
To complete the beautiful aesthetic of your space, our handymen create and install baseboards, molding, and woodwork for a personal touch to your renovated basement.
Flooring
Pick a style of flooring that reflects your personal tastes. We specialize in hardwood, laminate, tile, and vinyl planks to cover your floor and help beautify your space.
Bring Your Baltimore, MD-Area Home Project to Us
At All Things New LLC, we value your project and the trust you have in us to complete it to your satisfaction. To honor your business, we always aim to exceed your expectations by going the extra mile to ensure every part of your project gets the care and attention it deserves for a high-quality finished product. We're able to do this every time by giving each household our full concentration every day until we walk you through to get your approval. Give us a call today to schedule our services for your home project.
Call Us to Schedule a Consultation for Your Home